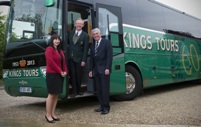 Colchester-based Kings Coaches has marked the family-run firm's 60th anniversary with the purchase of a new Van Hool TX16 Alicron.
Kings has been a NatWest customer since its inception six decades ago, and recently turned to the bank and its asset finance division, Lombard, for financial support to develop the business further. The ongoing development will help to secure the company's year-on-year growth, which is predicted to be 5% at the end of 2013.
As previously profiled in CBW, Andrew Cousins proprietor of Kings Coaches, has worked at the firm from a young age helping clean the fleet of coaches on weekends. Established by his grandfather Frank King in 1953, Andrew took over the company in 1994 and has been dedicated to improving the company since then.
Andrew said: "We have a fantastic reputation which we've established over the years – it is built on our high level of service and quality of fleet. This new addition to the fleet will help maintain this. Lombard and NatWest have provided excellent support and are extremely easy to deal with."
Sarah Kinch, Senior Relationship Manager at Lombard, commented: "Continued investment is crucial for businesses to remain competitive and to achieve their growth aspirations. We are proud to have been able to help Kings continue to take its investment plans forward and mark this momentous occasion in the company's history."