In the hunt for its 25th national championship, PSV will have a brand new team coach to transport the Eindhoveners to their matches starting with the 2019/2020 season. The 13.9m-long Futura has been presented to Kupers Touringcars and officially presented to PSV's supporters, players and staff.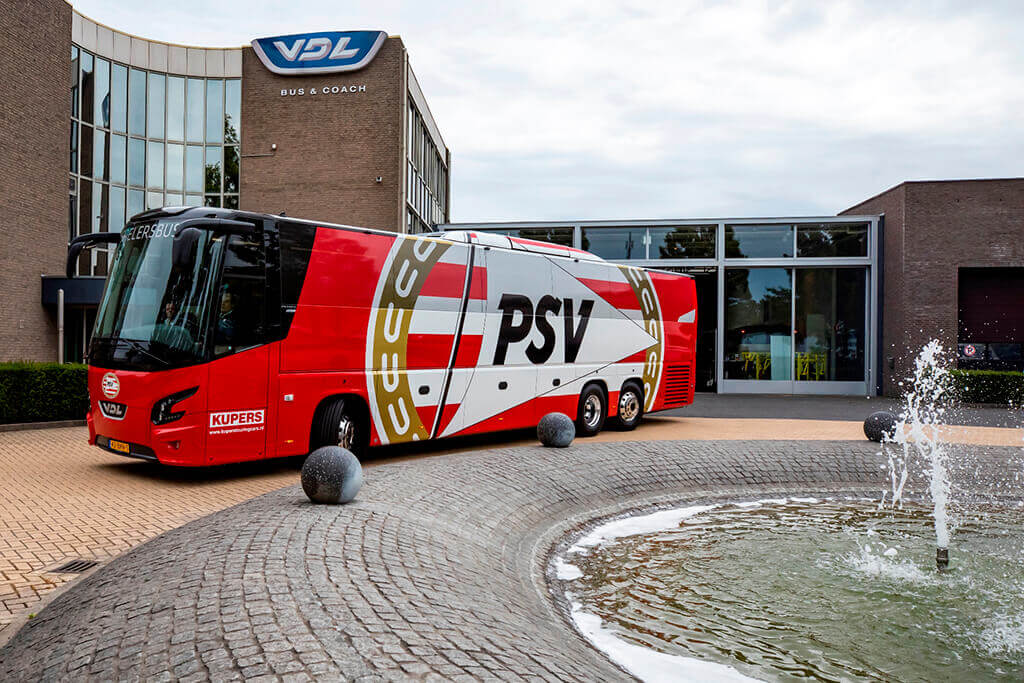 Willem van der Leegte, President and CEO of VDL Groep, spoke at the event: "The fact that we are delivering this coach is a fantastic example of the cooperation with Kupers Touringcars and PSV," he said. "This demonstrates perfectly how we work together in the Brainport region. We and all the VDL employees in Valkenswaard who worked hard on this fantastic coach wish the players and staff of PSV many comfortable, safe kilometres and, of course, a successful football season."
The new PSV team coach is a deluxe vehicle finished for maximum comfort, with numerous modern technologies, and features red as the most dominant colour in both the interior and exterior. The motto 'Unity makes strength' is printed in Dutch on the back of the three-axle coach, with a picture of the red and white shirt emblazoned with sponsor name 'Metropool Brainport Eindhoven' below it.
The vehicle has 36 red and white leather seats, with USB connections. A kitchen at the rear spans the full width and includes two refrigerators, a microwave, oven, coffee maker and a worktop with mixer tap and sink. There is on-board WiFi, along with a toilet and six LCD screens. There are also six VIP tables with LED spots, each of which seat four people.
The PSV team coach is owned by Kupers Touringcars, official supplier of PSV for many years now. Kupers provides transport for the first string, PSV U21, the PSV women, the youth teams and the club's supporters' association.
Read more news at: cbwmagazine.com/category/news