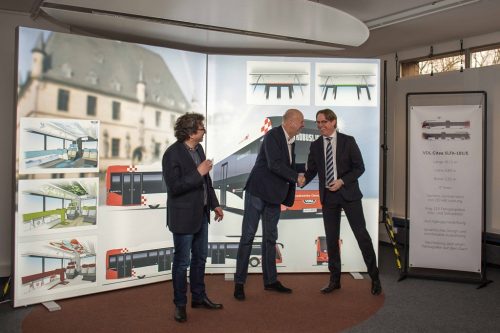 Dutch manufacturer wins significant contract for electric buses in Germany
GERMANY Stadtwerke Osnabrück in Germany has announced that VDL Bus & Coach has been selected as system supplier for the upcoming electrification of its local transport. As a system supplier, VDL both delivers the electric buses and charging stations and handles the roll-out. The first 13 VDL Citea SLFA Electrics, which emit no harmful substances and produce much less noise than regular buses, will be delivered in late 2018. These electric, articulated vehicles will be deployed on the first fully electric line, line 41 between Düstrup and Haste.
"The partnership is a milestone on the road to the electric, digital, multimodal future of local transport in Osnabrück," said urban planner Frank Otte.
"Stadtwerke Osnabrück has been among the forerunners in the field of electromobility for years. Such leaders are needed to turn new developments into reality. We are particularly proud to partner with Stadtwerke Osnabrück in the roll out of Germany's largest electric bus fleet," said Marcel Jacobs, Commercial Director, VDL Bus & Coach.
"With these vehicles, the line will be the first fully electric line in the city centre," points out Dr Stephan Rolfes of Stadtwerke Osnabrück. A rapid charging station will be placed at both ends of each line, and there will be another in the municipal bus depot. "In addition to the rapid charging stations, the bus depot will be equipped with 14 additional charging stations this year," he added.
The gradual electrification of local public transport in Osnabrück is an important part of the city and Stadtwerke Osnabrück's joint project Mobile Zukunft. This project includes sustainable mobility concepts, the promotion of environmentally friendly local mobility and the furtherance of e-mobility as well as the stimulation of bicycle use and advancement of public transport.
Stadtwerke Osnabrück, with nearly 1,000 employees, is one of Germany's largest municipal providers of infrastructure services. These include energy and water systems, public transport and the operation of Osnabrück's sewer system, port and swimming pools.
Stadtwerke Osnabrück's public transport company operates services in the city of Osnabrück and the greater Osnabrück area. The company 151-strong fleet carries approximately 36m people annually, principally on nine main routes although there are 24 in total.