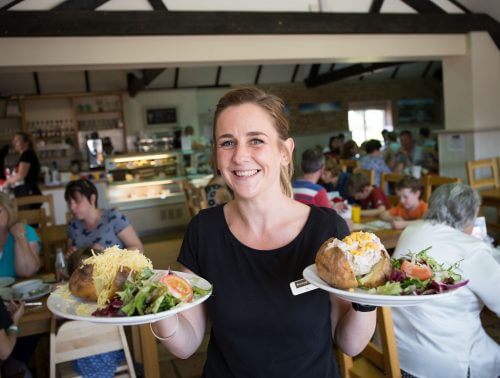 Award-winning North Norfolk-based visitor attraction Wroxham Barns is keen to welcome coach drivers and groups to its facility.
Established in 1983, the site is home to a range of shops, a restaurant and junior farm, where visitors can interact with animals including goats, sheep and rabbits.
'Design-led artsy gifts' are made on site, giving visitors the opportunity to witness the manufacturing process and chat to each creator.
The attraction is based 10 miles North West of Norwich, off the A1151. Admission and parking are free – restaurant tables can be reserved for guests at the time of booking. Additional charges do however apply to attractions such as the junior farm (£6.50 for children and £5.50 for parents/carers – under 2s go free).
Ian Russell MBE, Director of Wroxham Barns, told CBW: "Wroxham Barns is much more inclusive than exclusive; you don't have to have an interest in crafts to enjoy it.
"Over time we've expanded, widening appeal for children as well as adults. We offer niche gift ideas; our patchwork and quilting shop is a real treasure trove and the staff who work there are experts in their field.
"We're right in the middle of the Broads – and an ideal stop-off if you're going to go onto the Broads, Yarmouth or Sandringham later.
"We make a point of welcoming drivers – if they call in advance, they get a £10 meal allowance – and our fudge shop often gave out thank you packs of fudge to drivers in the run up to Christmas. It adds value at no up-front cost to a trip".
For more details, visit www.wroxhambarns.co.uk. To pre-book your group or for enquiries, call 01603 783762.