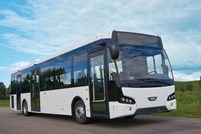 HOLLAND The new VDL Bus & Coach Futura FDD2 double-decker will make its public debut at Busworld, Kortrijk. The FDD2-141/510 has a capacity of up to 96 and with its distinctive design and height of four metres, is a real eye-catcher on the road, says its creator.
There will also be a Futura FHD2 and Futura FMD2 on display. The FHD2-139/460 will be a 13.9m coach seating 57 and powered by a MX-13 340 engine. The tri-axle will also be equipped with a wheelchair lift above the rear axle. The FMD2-129/370 will be a 12.9m, 59-seater and has a MX-11 271 engine. A wide centre door is equipped with a cassette lift in the stairwell to enable disabled passengers to safely enter and exit the vehicle.
An important step in the expansion of VDL's electric bus range took place earlier this year with the introduction of the Citea SLFA Electric. This 18.1m articulated bus built with an updated BRT (Bus Rapid Transit) style body will be displayed in the outdoor area. The electric bus on the stand will be a 12-metre Citea SLF equipped with a Siemens drive system and a pantograph. One of the Citea SLF Hybrids from the large order for 120 placed by Belgium operator, De Lijn in 2014 will also be at the show.
Appearing for the first time at Busworld will be a three-door Citea LLE-120. VDL points out that the modular construction of the Citea range allows all models to benefit from the same characteristic features. The innovative lightweight construction means Citeas benefit from low net weight.
The VDL MidCity was developed exclusively for public transport and includes a multifunctional low-floor area for standees and wheelchair users. The MidCity showing at Kortrijk is a dial-a-bus built on a Mercedes-Benz Sprinter. It will have 13 seats including two folding ones.
In the MidEuro, VDL will be showing a compact 22-seat tour bus specially intended for the luxury passenger transport sector. It's an ideal vehicle for small groups and with optimal reconfiguration options, it also a cost-effective all-rounder for mainstream transport.
VDL Bus & Coach is part of VDL Groep which has its head office in Eindhoven, Holland. It's an international business focused on the development, production and sale of semi-finished products, buses and coaches, other finished products and the assembly of cars. Since it was founded in 1953 the family-owned company has grown to include 88 operating companies employing more than 10,400 people in 19 countries. The company says that it's strength come from the mutual cooperation between its subsidiaries.