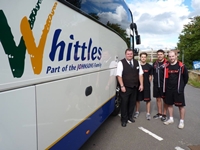 Whittles Coaches has won the contract to provide coach transport for the Telford Tigers Ice Hockey Team for its 2015/16 match season.
The agreement will see Whittles Coaches transport the professional ice hockey team to matches throughout the UK as they compete in the English Premier League. The long-standing firm will also provide coaches for Telford Tigers' NIHL team, as part of its Moralee Conference campaign.
Whittles Coaches operates a fleet of nine coaches from its depot in Kidderminster and was acquired by Johnsons Coach & Bus Travel in January 2015. The new owners have invested heavily in a new Volvo coach and improved booking processes.
Peter Johnson, Operational Director at Whittles Coaches, commented: "We are delighted to work with the Telford Tigers. They are a high profile and well respected organisation that we are pleased to be associated with and we look forward to helping them make this coming season a roaring success."
Paul Baker, Director of Tigers' owners Red Hockey, said he is happy to welcome Whittles Coaches into The Tigers family.
He said: "When we set out to find a coach operator, we knew we wanted quality, reliability and great service. Whittles Coaches delivers on all of those points.
"This partnership can go from strength to strength and provide mutual benefits for both Tigers and Whittles. I am sure that with our new transport partners on board, we can face the new season with great confidence."