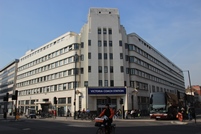 Victoria Coach Station (VCS) in London, a classic Art Deco building that dates from 1931 and is owned by Transport for London, has been made into a listed building by Culture Minister, Ed Vaizey.
A 1963 extension to the east of the coach station, the canopy to the north-west of the yard and lean-to structures are excluded from the listing. The coach station, which covers a 3.3-acre site off Buckingham Palace Road, has 21 departure gates.
"VCS, with its soaring Art Deco frontage, harks back to another – more stylish, perhaps – era in public transport," said the Minister.