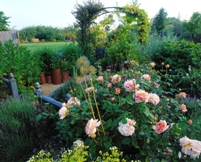 Barnsdale Gardens, famous for being the setting for Gardeners' World between 1979 and 1996, has been referred to as a 'theme park for gardeners'. With 39 individual gardens there is plenty to see.
The 8-acre site, located close to Oakham and Rutland Water, is suitable for everyone, from keen gardeners to people looking for a pleasant and relaxing day out.
The gardens, nursery, shop and tea rooms are open every day except December 24 and 25. Open times are 0900 – 1700hrs March to May, 0900 – 1900hrs June to August, 0900 – 1700hrs September to October and 1000 – 1600hrs November to February.
Group entry to the gardens requires advance booking, with rates for parties of 10 plus at £5 adults and £2 children.
Tours are available at a cost of £237 for up to 25 people and £450 for up to 50 people – the cost of entrance is included in the tour price.
There is ample coach parking. Drivers get free entry and drinks. Visit www.barnsdalegardens.co.uk or ring 01572 813 200 for more information.