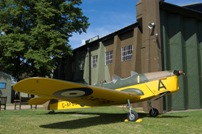 New for 2012 at The Imperial War Museum (IWM) is 'Unseen Duxford – the Southside Tour', which gives an insight into the historic buildings which can be seen by visitors as they explore the museum. The tour tells the story behind the bricks and mortar and reveals the original purposes of these fascinating buildings.
Due to its popularity in 2011, 'The First World War Uncovered' special interest day is returning, but looking at different aspects of the Great War with brand new speakers.
Other tours on offer for 2012 include:
Duxford and the Battle of Britain Tour, looking at Duxford's role as a Battle of Britain fighter station.
The Grand Tour – perfect for the discerning visitor, revealing the lesser-known stories and facts about IWM Duxford. In a whistle-stop tour of the museum, visitors get an introduction to IWM Duxford and its fascinating history, followed by tours of Land Warfare, the American Air Museum, Conservation in Action, the Battle of Britain exhibition and AirSpace.
Land Warfare Tour, displaying what is claimed to be the finest collection of tanks, military vehicles and artillery in the country.
Unseen Duxford – the North Side Tour – similar to the new Southside Tour, providing a unique opportunity to explore unseen parts of Duxford.
Most tours have a maximum group size of 25. Booking in advance is essential. Free coach parking is provided with free admission for the driver. Group prices are £11.60 per adult, £10.15 seniors and £10.15 for students. School visits are priced by group size.
For more information visit www.iwm.org.uk/visits/iwm-duxford or call 01223 835000.