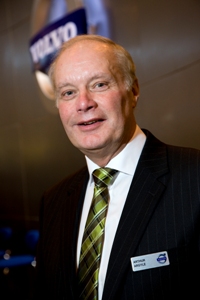 Regional Commercial Manager, Arthur Argyle is retiring from Volvo Bus this week.
Having worked for the company for 23 years, joining in 1989, Arthur has become an extremely wellknown and respected figure within the industry. His retirement brings to a close an impressive 48 year career.
Arthur began as an apprentice in Darlington in 1964 at United Automobile Services. He worked there for eight years as an electrician in an Area role. In 1973 he relocated to Plaxton in Scarborough, where he still lives.
Arthur worked as an electrician on the production line and then subsequently in production engineering for Plaxton. He then moved into sales including a 12 month spell in London, before returning to Scarborough.
In 1989 when Volvo bought Leyland, Arthur became part of a four-strong Aftermarket sales team at VL Bus and Coach alongside the late Norman McIlwraith. Arthur established himself as reliable and knowledgeable part of the team.
He became a key member of the Volvo Bus team under Steve Dewhurst and for the last four years under Phil Owen.
Arthur said: "I've thoroughly enjoyed my time with Volvo Bus and my career as a whole. A particular highlight has been the great strides we've made alongside our partners at Wrightbus, in establishing a good presence and selling vehicles into Municipal operators such as Warrington, Isle of Man, Blackpool and Rossendale Transport."
Volvo Buses UK MD Steve Dewhurst said: "Arthur has been a fantastic servant to the business and his experience and professionalism will be greatly missed. Among other things, he has been a central figure in the company's sales successes over the last 23 years and I am sure everyone, not only from Volvo but from the wider industry, wish him well in his retirement."
He is succeeded by Dan Barwick, a recent recruit from Scania Coach and Bus, who takes over full responsibility for regional customers in the North of England.