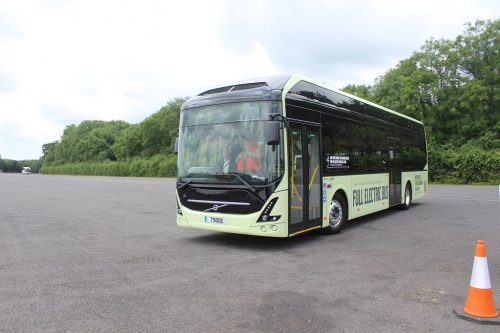 A Volvo 7900e bus attends the Leading the Charge event, promoting sustainable transport
Volvo Bus held a special event on August 29 in support of Warwickshire County Council's 'Warwickshire – Leading the Charge' campaign.
Held at Volvo Bus' Warwick site, the campaign hopes to promote the development and coordination of sustainable public transport.
Attended by 25 representatives from local authorities across the West Midlands, the event saw Volvo Bus give presentations on its Electromobility technologies. Delegates were then invited to see and ride the first full electric right hand drive single-decker: the Volvo 7900e bus.
Speaking at the event, Volvo Bus's Managing Director, Nick Page, said about the bus and event: "Today we are delighted to have representatives here from some of the leading local authorities in and around the West Midlands to see and experience the 7900e and all it offers.
"The 7900e arrived in the UK just last month and we have already showcased it to customers, press and colleagues from the coach and bus sector.
"We share many of the ideals and aims of the 'Warwickshire – Leading the Charge' campaign, and as a local company, it seemed logical to get involved with Warwickshire County Council for this event.
"Our society faces a number of challenges concerning public transport, specifically in relation to the environment and noise pollution. While much of the current focus is on the larger towns and cities, it is equally important to consider the transport needs of market towns and villages too. We believe the Volvo Electromobility range can play a key role in meeting these challenges."
Warwickshire County Council's leader, Cllr Izzi Seccombe, added the council was very much looking forward to the 7900e's introduction: "We are delighted that Volvo has premises in Warwickshire, bringing employment to the region.
"And, of course, we are also tremendously excited by this new electric vehicle, which complements the council's environmental agenda and commitment to reducing our carbon footprint."
The 'Warwickshire – Leading the Charge' initiative has been developed by the council in conjunction with Greenwatt Technologies, based in Alcester, in response to a growing demand for electric vehicles. The aim is to establish a low emission transport action plan for the sub-region and includes the establishment of a future transport technology centre to showcase electric vehicles.
Volvo's 7900e is the latest addition to the Electromobility range and is already successfully operating in Sweden, Germany, Belgium and Luxembourg. The vehicle is set to embark on a UK demonstration programme during autumn 2017 and into 2018.