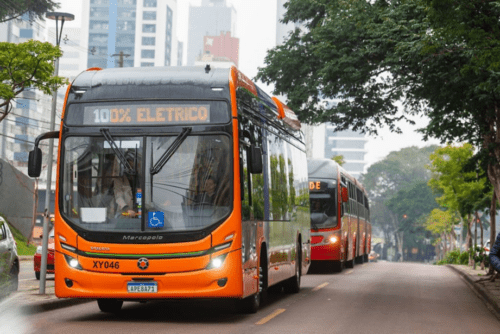 BRAZIL
Volvo Buses has begun the first demonstration of its BZL electric city bus in real operation in Latin America. The Vbus will be tested on two routes in Curitiba, Brazil, with further demonstrations in São Paulo, Bogotá, Colombia and Santiago, Chile to follow.
"These electric buses represent another step on our electrification journey. We have a zero vision – zero emissions, zero noise, zero accidents and zero congestion – and we are fully committed to creating sustainable people transport solutions," said André Marques, President of Volvo Buses in Latin America.
"The performance of Volvo electric buses in Europe and in several countries on other continents is very positive. Now we are going to show that this performance will be repeated in the challenging conditions we have in Latin America," added Alexandre Selski, Director of Electromobility at Volvo Buses in Latin America.
The 12.6m bus, with bodywork by Marcopolo, is equipped with four 94kWh batteries and is driven by a 200kW electric motor. It also features Zone Management to automatically lower speed in sensitive locations, such as near schools, indoor terminals and busy urban areas; when the system was first introduced on bi-articulated vehicles in Curitiba in 2018, it is reported to have reduced accidents by 50% in the first year.