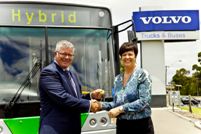 Australia Volvo Buses has delivered its first hybrid to the Asia Pacific region and Australia. Minister for Transport Western Australia, Troy Buswell MLA, celebrated the launch of the new Volvo B5R Hybrid bus at the Volvo dealership in Guildford, Perth. It will begin operations in March in Perth's free inner city CAT service run by the Public Transport Authority of Western Australia.
The hybrid entered commercial production in 2010.
"Hybrid technology is an important option for reducing vehicle emissions. As the technology develops and we have the opportunity to test its suitability in new markets like Australia, we expect demand to keep growing worldwide," said David Mead, General Manager of Bus Australia. "
The Volvo B5R Hybrid was assembled locally with a body designed and built by Australian coachbuilder Volgren.