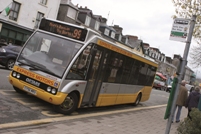 With just two months' notice, it's no joke as fuel duty rebate is slashed by 25% from April 1
With less than two months to go, the Welsh Government has told bus operators the Bus Service Operators' Grant (BSOG) – formerly the fuel duty rebate – will drop by 25% on April 1.
As a result, a litre of diesel for a bus will effectively rise by 12p at current prices, a massive blow for the industry, when one considers even a small 25-seater bus consumes around 60 litres per day.
By contrast, operators in England were told in October 2010 that BSOG would be slashed by 20% over three years from April 2012. The 18 months' notice was designed to allow operators and councils to prepare.
Welsh operators are warning of big fare rises and job losses as a direct result of the massive change in BSOG. According to CPT Wales, the actual increase in duty which operators will be forced to pay from April 1 is 108%. Operators currently pay 10.9p per litre net. From April 1 when this cut is implemented, the net amount payable soars to 22.6p per litre.
A Welsh Government spokesman said difficult funding decisions had to be made across transport programmes to stay within tight spending plans. The BSOG budget would remain at £17m-a-year for two years to help make the transition to new arrangements.
Commenting on the lack of proper notice, CPT Wales director of government relations John Pockett told CBW: "We are most disappointed. At our meeting with him in September, Carl Sargeant, minister for local government and communities warned BSOG would be cut but he gave us a timescale of no more than six to eight weeks to give us the precise details.
"The lateness of the announcement has made things very difficult for operators who have been working flat out on budgets."
Michael Morton, chairman of CPT Cymru and MD of Arriva Buses Wales, said: "Independent research shows every pound spent on BSOG delivers up to £5 in wider benefits to our communities. A reduction in the rate paid constitutes a huge, regressive tax hike for bus passengers, it would cost jobs and be bad for business. The worst impact will be on the pockets of the poorest in our society whose bus services are a lifeline and smaller bus operators might even be in danger of going out of business."
Bus passengers, many of whom are on low incomes, already pay more fuel tax than wealthier air and rail passengers. A UK-wide study by the Green Alliance has shown that while buses still pay a significant amount of fuel tax, trains pay very little and aviation pays none. BSOG is equivalent to a £437m a year investment in buses. In contrast, aviation gets a £6.5b a year tax break by paying no fuel duty.
The BSOG cut is the latest blow to be dealt to the bus industry in Wales. Local authorities have had their Local Transport Services Grant (LTSG) cut by around 28% (or £4m pounds overall), with no prior notice. LTSG supports a large proportion of the tendered local bus service network in all councils, so it will prove difficult, if not impossible for them to support more services which are no longer commercially viable, but considered socially important.
As one respected local authority transport team employee observed, a 25% BSOG reduction, coupled with the LTSG announcement can only mean major service reductions and fare rises across Wales.