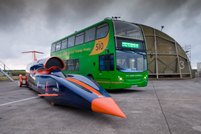 The Bloodhound supersonic car recently visited Newquay in Cornwall in order to fire its hybrid rocket in a hardened aircraft shelter at Newquay Airport. Western Greyhound was on hand to transport the 400 invited guests and the international media across the airport to watch the event.
The fire-up of the Bloodhound was seen as the most significant success in the preparation to build and develop a 1,000mph supersonic car, which aims to break the world land speed record in 2014 in South Africa.
The rocket fired, flames roared and everyone sat with baited breath (especially the Newquay Airport Firemen). Seconds later there was rapturous applause and big smiles on the faces of the Bloodhound Team.
Mark Howarth, MD of Western Greyhound said: "It was wonderful to be involved in this event which was watched throughout the world."