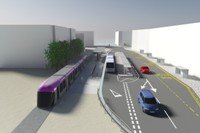 Wolverhampton wants coaches – that was the message the city council gave CBW when asked about the its new coach terminal, which is now under construction.
Funded by the Black Country Local Enterprise Partnership (LEP), the £500,000 Coach Link facility will be located on Bilston Street and will make use of the now redundant side of the St George's Metro stop. It will alleviate congestion in Pipers Row, where a new stop for the planned extension of the Metro is planned outside the bus station.
The new facility, which is due to open by the end of April, will offer an alternative for visiting coaches, which currently use Falkland Street. Coaches will approach the facility from the Ring Road/Bilston Street Island and make their way via St George's Parade and Garrick Street to the link.
Coaches will therefore not need to drive through the busy central area of Pipers Row, Queen Street and Market Street – which will be subject to continued works for delivery of the Interchange project.
The facility will provide an enhanced waiting facility for coach passengers within the city centre, and is within 200 metres of the bus station and the tram. The platform and waiting area will be fully accessible and the design includes appropriate width for deployment of wheelchair access ramps from coaches.
Cllr Peter Bilson, Deputy Leader and Cabinet Member for City Assets, said: "The start of work on the coach link further strengthens the progress that is being made on the Interchange project. Phase 1 saw a new bus station delivered. Phase 2 has already seen i10 office development open its doors and the demolition of the former Steam Mill completed. Work will soon begin on redeveloping the railway station car park, doubling the number of parking spaces to 900. The coach link will not only help ease traffic congestion on Pipers Row – but will deliver a facility befitting of the new Interchange."