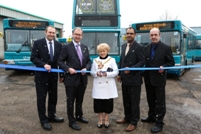 An investment of over £280,000, which has seen the refurbishment of the Arriva Wednesfield depot and its buses, was officially unveiled by the Mayor of Wolverhampton, Councillor Christine Mills on Wednesday, March 27.
Taking responsibility of the depot on Planetary Road in August 2012, Arriva Midlands has focused on improving the garage and its buses in a move which has safeguarded the future of 110 employees.
The benefits include 17 refurbished buses, positive service changes resulting in enhanced links across the Black Country and the introduction of double-decker buses onto certain routes.
Alex Perry, Regional Managing Director at Arriva Midlands, said: "We are delighted to have given the Wednesfield garage a new lease of life, and think the local community will certainly notice the difference in the services as we begin to roll out the refurbished buses across the Black Country.
"The rebuild represents a significant investment which has enabled us to create a clean, safe and modern working environment for all employees as well as enabling Arriva to continue providing the best possible service to the community.
"I'm particularly pleased the refurbishment has taken place without any disruption to passengers or employees – this is an impressive feat and one which I'm sure everyone has appreciated."
The work which was carried out on the depot includes a new bus wash and changes to the garage infrastructure.