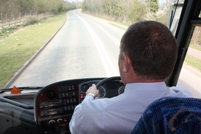 The government has passed legislation to enact the EU Directive which requires self employed drivers to limit their working time.
The Directive 2002/15/EC on the organisation of the working time of persons performing mobile transport activities will require from May 11, all self employed drivers to keep a record of all their working time and limit themselves to an average of 48 hours work per week.
Simon Posner, chief executive at the Confederation of Passenger Transport (CPT), said: "This latest news that the Government will have to legislate for a directive which was opposed by the majority of EU members' states is not good for our members who operate a small business. In a time when the economy is tough, this can only restrict the ability of our smaller members, particularly family run businesses, to operate effectively. This will only add further red tape and cost.
"CPT agrees with UK ministers that this is a most unwelcome move. People whose businesses are under pressure will find it difficult to pay other people to do jobs that they are used to doing themselves. We do welcome the commitment by Government to ensure the proposed changes are implemented in the least burdensome way possible."
The Directive requires anyone who drives under EC hours rules, on more than 10 days in a 26 week reference period (or 15 days in a longer reference period) to limit themselves to 48 hours of all types of work, on average, per week. They must also follow the other provisions on periods of ability which apply to employed drivers. This is on top of the requirements to take breaks, and daily and weekly rests, under drivers' hours rules. After May 11 it will make no difference from being self employed or an employee. The only effective difference for self employed people is in the field of paid annual leave. This is a right for employees, but there is no obligation for anyone to take it.
The only way to legally carry on working longer hours is to limit the amount of driving under EU hours done so it is below one of the above thresholds. Drivers will then fall under the rules for non-mobile workers, which do not apply to self employed entrepreneurs.
VOSA will be the enforcing agency, and has committed itself to taking an advisory approach for the first six months.