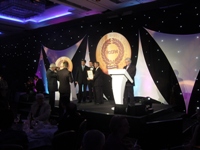 The RoSPA awards provide recognition and help ensure companies remain committed to health and safety regulations
Arriva North East has been recognised for its health and safety initiatives for the fifth consecutive year in the Royal Society for the Prevention of Accidents (RoSPA) Occupational Health and Safety Awards 2012.
The company is set to receive the Gold Medal award at a ceremony at the Hilton Birmingham Metropole Hotel, at the National Exhibition Centre, on Thursday May 17.
Founded in 1956, the RoSPA Occupational Health and Safety Awards scheme is the largest and longest-running programme of its kind in the UK. It recognises commitment to accident and ill health prevention and is open to businesses and organisations of all types and sizes from across the UK and overseas. The scheme looks at accident records, entrants' overarching health and safety management systems, including important practices such as strong leadership and workforce involvement.
The majority of RoSPA's awards are non-competitive, marking achievement at merit, bronze, silver and gold levels. Organisations maintaining high standards can win gold medals, president's awards and orders of distinction.
Competitive awards are presented in more than 20 sectors, and specialist awards recognise excellence in specific areas.
David Rawlins, awards manager at RoSPA, said: "The RoSPA Awards programme provides well-deserved recognition for the winners and spurs on other organisations to raise their standards of accident and ill health prevention. We congratulate Arriva North East on its success and encourage it, and all our other winners, to remain committed to safety and health."
Nigel Featham, managing director for Arriva North East, said: "Safety is at the heart of our business and we are delighted to have won this award. It's great to be recognised for our continued efforts, and the dedication of our employees in this area has been outstanding."