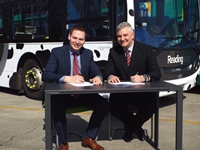 Bus operator Reading Buses orders first ever Scania gas-powered double-deckers in a sizeable investment
In an order worth £1.3 million, Reading Buses has officially confirmed the requisition of five Scania N280UD double-decker buses – powered by Compressed Natural Gas (CNG) from a bio-methane source.
This decision comes from the resounding success that the operator has had with its single-decker variant – another first for it back in 2013.
Reading Buses operates a fleet of 34 single-decker Scania gas buses, and the five new double-decker buses will be purchased without the assistance of any government grant funding, demonstrating what CEO, Martijn Gilbert, describes as proof that the fuel has proven both cost-viable and reliable for the operator.
John Bickerton, Reading Buses Chief Engineer, expanded on this: "Our gas buses are consistently high performers in terms of both reliability and customer appeal with considerably quieter and greener engines than conventional diesel vehicles.
"We were the first UK operator of Scania's gas single deck buses and our experience of these has proven the economic case to add more such vehicles within our existing depot infrastructure, and come back three years later with yet another major order that is again a 'first' for gas buses."
Single-deck gas buses have long been a popular choice across the globe – particularly in the USA. The double-deck model from Scania, however, represents a real world exclusive.
The five N280UDs will have bodywork made by UK manufacturer Alexander Dennis Limited (ADL) to its Enviro 400MMC style, and will be used to upgrade royal blue 33 services.
Keith Watson, Customer Development Director at ADL, commented: "Over the course of our history we have repeatedly pioneered frontier technology as part of ADL's drive towards the ultimate goal of zero emissions.
"This journey has come a long way and involved numerous partnerships ranging across smart technology, mild hybrids, full blown hybrid expertise, virtual electric and pure electric know-how.
"We are delighted to be working in partnership with Scania and Reading Buses in the development and introduction of vehicles driven by CNG derived from a bio-methane source. The introduction of double-deckers based on this technology is a 'world first' which says a great deal about the commitment of Reading Buses to cleaner, greener transport solutions. We are delighted to be working with them and Scania on this ground-breaking initiative."
On-board, the buses will feature the latest Reading Buses interior. This includes high-back seating – trimmed in materials inspired by automotive trends – and as standard will include at-seat USB charging sockets, superfast 4G WiFi and next-stop audio-visual customer information systems.
The royal blue 33 operates seven days a week with frequencies of up to every 10 minutes on weekdays along Tilehurst Road. The new buses will come into operation in October 2016, replacing five older buses currently used on the route.
Mark Oliver, UK Bus and Coach Fleet Sales General Manager for Scania (Great Britain) Ltd, said:  "We have had a long and successful relationship with Reading Buses dating ?back over 30 years.
"Our new double-deck model complements our popular K280UB single-decker range and has been developed in response to the UK industry's demands for greater capacity for city and town bus operations."