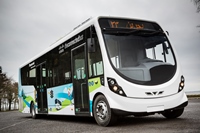 DUBAI Wrightbus International – the international arm of Wrights Group – exhibited a GCC (Gulf Cooperation Council) specification StreetLite at the UITP MENA Transport Congress and Exhibition in Dubai.
Wrightbus International has had a permanent presence in the Middle East region since 2013 when it opened an office at Masdar City, Abu Dhabi, with the office being headed up by Paul Brannigan.
Paul said: "Since opening our Middle East office, we've been actively promoting the Wrightbus brand, business ambitions and core product range throughout the region.  This has included showing the New Routemaster in the Masdar City region as part of the GREAT campaign in October/November 2014.
"More recently the company has been successfully demonstrating a 9.7m 6-cylinder StreetLite in Kuwait – this vehicle is in fact the bus on display on our stand at UITP and it has covered 30,000 miles to date. After the show this vehicle will continue its demonstration showcase throughout the region."
Speaking at the exhibition, Wrights Group Chairman & Chief Executive Officer, Mark Nodder, said: "Innovation is at the heart of everything we do at the Wrights Group, our GCC specification StreetLite on show today has been designed and engineered with a passion and determination to set new standards in its class.
"We are leaders in the field of minimising fuel consumption, through weight reduction by design, the use of advanced materials and efficient driveline technology and this is evident right across our product range. We are also at the forefront of ultra-low carbon vehicle development and we are able to update visitors on our continuing work in this important field."
Paul Brannigan added: "We continue to witness growing demand from GCC customers seeking more fuel efficient buses with lower emissions, increased urban mobility and optimised payloads, all of which our StreetLite offers.
"Authorities and operators in the region continue to adopt and implement world class standards comparable to those which we witness in our other core markets of London, Hong Kong and Singapore. Our product is highly competitive both in terms of purchase price and cost of operation – in our midi bus StreetLite we have a product which can greatly enhance operator returns."