Transport for London (TfL) has awarded framework contracts for the purchase of single- and double-decker hydrogen fuel cell buses.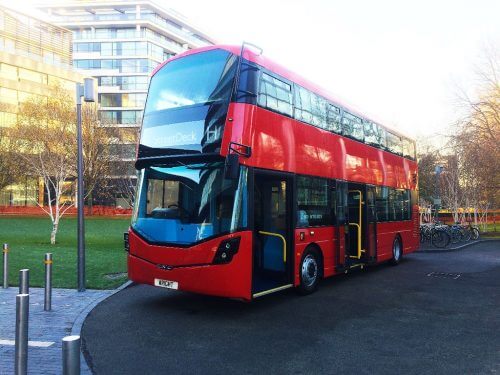 The framework agreements, which also cover maintenance provision and support services, have been awarded as part of the EU-funded JIVE project, which is looking to deploy 139 fuel cell buses in nine cities.
Additional fuel cell vehicles should be supplied in Aberdeen, Dundee and Birmingham as part of the project.
The single-decker hydrogen buses will be supplied by both Van Hool and Wrightbus, while Wrightbus will exclusively supply the double-deckers.
Van Hool has supplied two hydrogen single-deckers previously to Tower Transit, which operate on the RV1 TfL service between Covent Garden and Tower Gateway alongside eight Wrightbus Pulsar-bodied VDL SB200 hydrogen single-deckers.
Wrightbus also launched a prototype hydrogen double-decker on November 30, 2016.
A supplier is being sought to put the hydrogen refuelling and maintenance infrastructure in place in Metroline's Perivale garage.
Based on the figures supplied, a minimum of 20 buses are expected to be delivered, with a minimum of 17 in operation per day.
All hydrogen will be produced off-site and delivered to the refuelling station, which should be capable of fuelling two vehicles simultaneously at a rate of up to 12 buses per hour during a daily eight hour refuelling window.
The vehicles and infrastructure are expected to be operational in late 2019.