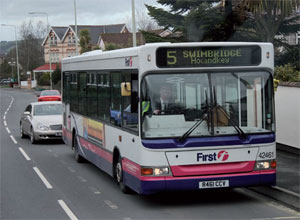 Western Greyhound registers additional journeys on competing Bude to Exeter corridor.
First Devon and Cornwall announced on Monday (July 23) plans to discontinue its bus services in the North Devon area, including closure of the Barnstaple depot. The company also confirmed it has started the collective consultation process with trade unions on the possibility of redundancies.
First said its bus services in North Devon have underperformed for a number of years, despite the introduction of a variety of marketing and promotional initiatives. The company says it is now faced with extra cost pressures due to the economic climate and cuts in external funding and routes are now being discontinued in order to ensure the long term sustainability of operations elsewhere. The operator also said a range of alternative options, including the potential sale and transfer of employees and assets to Stagecoach Group plc were fully explored. That option will no longer go ahead following the Office of Fair Trading's (OFT) announcement on July 10 that it was referring the case to the Competition Commission.
Giles Fearnley, FirstGroup's Managing Director of UK Bus, said: "We understand this news will be distressing for employees affected by the decision and that it will similarly cause our customers in the area some concern. We apologise and will be supporting affected employees over the coming months, as well as working with Devon County Council on the future of bus services in the area. We will give customers ample notice of the date our services will cease to operate in North Devon.
"We will be working hard to minimise the extent of redundancies, trying to redeploy people where possible. We would like to take the opportunity to stress the decision to close the North Devon operation is a business driven one and does not reflect on the effort or individual performance of the employees in North Devon."
Furthermore, Mark Howarth, Western Greyhound's Managing Director, has announced that Western Greyhound has registered additional journeys on the Bude to Exeter corridor which is currently operated by both Western Greyhound and First's North Devon business.
He told CBW on Monday: "Following today's announcement by First that it was to discontinue its bus services in the North Devon area, including the far flung X9 Bude – Okehampton – Exeter service, we have registered additional journeys on our common 599 Bude – Okehampton – Exeter service.
Currently, Western Greyhound operates two round trips daily. This will increase to four round trips on Mondays to Saturdays and two on Sundays. The increase will generally cover the journeys at times currently operated by First and will enhance the broadly hourly service between Okehampton and Exeter.
"This is an exciting increase and ensures passengers on this corridor are not affected when First withdraws its service. Western Greyhound will be recruiting a number of additional drivers at its Bude outstation to cover these additional journeys. Passengers will also benefit as there will now be inter-availability of return tickets on all journeys between Bude, Okehampton and Exeter allowing much more flexibility in travel"
Fearnley added: "We are progressing our strategy to reposition and rebalance our UK Bus portfolio to restore operating margins and help facilitate improved growth and returns. The decision by the OFT to refer our proposed sale of our North Devon operations, where we had a uniquely high degree of overlap with Stagecoach, was disappointing. We are confident, however, of future successful transactions in the coming months as a number of potential bidders exist in the markets where we have identified other businesses for disposal."
On Monday (July 23) First Devon and Cornwall began its official consultation process with affected staff. This will include offering opportunities in other areas. The timescale for closing the business will be confirmed once the consultation with the affected employees has been completed.
The First North Devon business comprises of the depot facility in Barnstaple, a fleet of around 30 vehicles and 10 routes (Services 1, 2,3, 5/5C, 8 (summer only), 30/30C, 31, 32, X7 and X9.
The OFT declined to provide additional comment on the case.