First vehicles from £13m order delivered to First Leeds
Wrightbus has delivered its first new vehicles under the new management of Bamford Bus Company, following the firm's collapse and subsequent sale to entrepreneur Jo Bamford.
The first new vehicles to leave the Wrightbus Ballymena plant under new ownership are now being delivered, as part of a £13m order for 55 Wrightbus Streetdecks. First Leeds' Bramley depot has already started to take delivery of the first batch of 36 vehicles.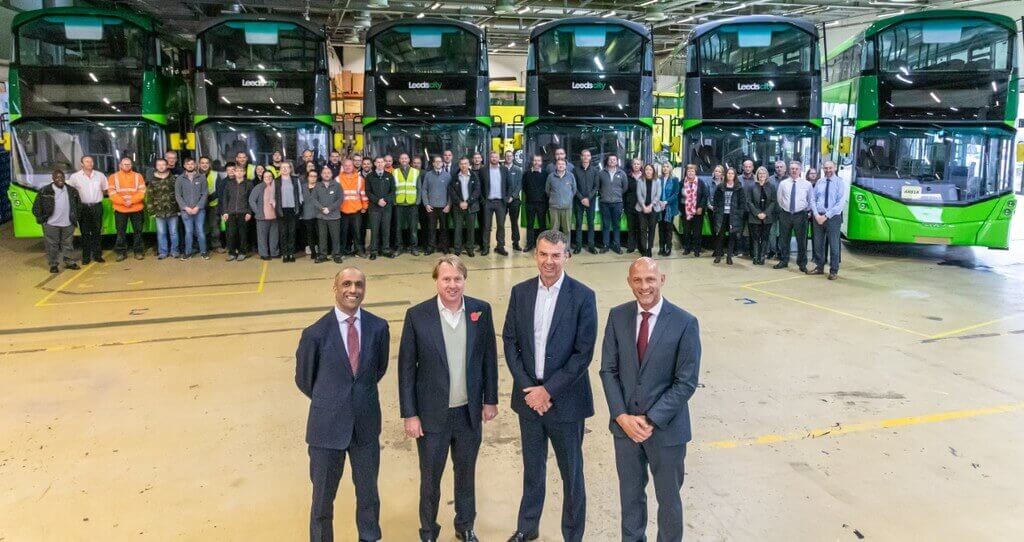 New Wrightbus Chief Executive Buta Atwal said: "The delivery of the first of these new buses, the first sale since the acquisition of Wrightbus by the Bamford Bus Company, is a clear signal of our intent to drive forward the Wrightbus business and grow the company.
"With the Government's recent announcement of a new national bus strategy in 2020, in which de-carbonisation will play a key role, we enter an exciting period during which Wrightbus has the opportunity to lead the way given our track record in manufacturing state of the art zero emission hydrogen buses as well as electric and hybrid models. We are looking to the future with much optimism."
The company went on to say: "The completion and delivery of the new buses marks the beginning of a new phase in the history of the renowned Northern Irish bus manufacturer, as the Bamford Bus Company management team focus on stabilising the business, using its expertise and experience to take forward the opportunity to grow the business and continue to promote Wrightbus across the world."
Additionally, Wrightbus has announced it has begun recruiting staff again. Local recruitment agencies Grafton and Industrial Temps have been appointed to assist in the speed of the process, moving to a comprehensive recruitment campaign for permanent contracts.
Wrightbus is currently recruiting for a range of production roles including coachbuilders, welders, paint prep and spray painters. In addition to these roles, with new technologies and people engagement in mind, the firm is on the lookout for IT and HR talent.
The Ballymena-based bus builder will also be launching an engineering recruitment campaign. This will be phased in over the next few months with job advertisements already going live and successful candidates receiving phased start dates during late November, December, January and February 2020.
Buta Atwal, Wrightbus Chief Executive, added: "In the near future it is not likely that the company will employ as many people as it did before it entered administration earlier this year. Over the longer term, it is of course our ambition to rebuild the company and ensure that Wrightbus is as big and successful as possible.
"We hope to attract the brightest and best talent to help us rebuild this great company and encourage anyone who is interested in the roles we are recruiting for to get in touch."
For more information, visit: www.wrightsgroup.com/Bright-Futures/Vacancies