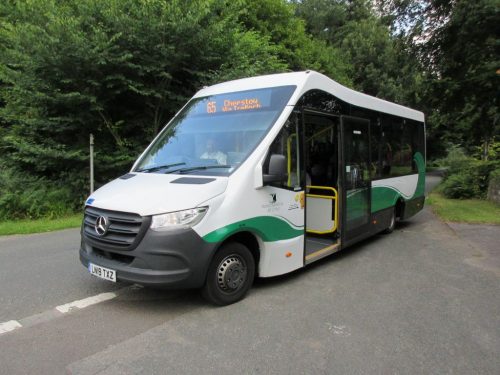 A Mellor Strata Plus is the latest vehicle from the Rochdale manufacturer to enter service with Monmouthshire County Council. This order follows two Mellor Tucanas which were delivered to the council late last year.
Set to be deployed on route 65 which connects Monmouth with Chepstow via villages along the Wye Valley High Road in South Wales, Monmouthshire County Council is also working with a voluntary group called the 'Friends of the 65 Bus'. The Friends group was formed following the bus route being saved from closure last year and now works closely with Monmouthshire County Council to promote and develop the service which provides a vital link for communities in the area.
Carrying full LEB accreditation, the Strata Plus features the rigorously tested Mellor coach-built body and low frame conversion with the proven Mercedes-Benz 907 Sprinter chassis and drivetrain. It boasts green credentials as well as low cost of ownership. At the same time, the innovative low floor saloon area easily accommodates wheelchair or buggy users, while creating accessible and spacious seating areas, plus a comprehensive three-year warranty from Mellor.
Brian Mahony of Friends of the 65 Bus said: "With the current focus on combatting climate change, scheduled rural bus services have a big part to play in reducing car use as well as ensuring those in remote communities do not face isolation.
"Along with its impressive environmental credentials, the Strata Plus is appropriately sized for this route, which we hope will ensure the cost-effective operation and avoid any future threat to the route. It also has all the features and benefits of a larger bus that today's passenger wants and expects, including destination signage, easy access for all ages and abilities, seatbelts, plenty of space for passengers with their luggage and shopping and panoramic windows to enjoy the beautiful Wye Valley countryside.
"We are confident that this vehicle will prove to be extremely popular with users and our drivers alike and we are excited to see it going into service on route 65."