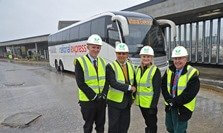 Town is now served by 19 NatEx coach services and better connected to the wider coach network
When the Wycombe District Council-built coachway opened on January 5, the town began to benefit from 11 new National Express services departing from the Handy X Hub development every day – for a total of 19 routes.
The coachway includes a heated waiting area, real-time passenger information, with a coffee shop to follow later in 2016. A Park & Ride service will offer transfers to the site from Cressex in February.
National Express UK Coach Managing Director Tom Stables said: "Thanks to the construction of the High Wycombe Coachway, National Express will double its services to High Wycombe, adding a whole host of new direct connections to key destinations such as Heathrow Airport and London Victoria.
"This all-new facility will mean passengers can enjoy faster journey times, fewer changes and increased convenience bringing affordable travel to more people than ever before."
Wycombe District Council's Cabinet Member for Economic Development and Regeneration, Cllr Roger Wilson, said: "We are delighted that National Express services will stop at the new High Wycombe Coachway – part of the council's fantastic Handy X Hub project.
"Not only does it make it easier for our residents to travel to airports and enjoy days out in major cities, it will also mean people from all over the country will be coming the other way to visit our wonderful district."
The 11 new services are in addition the eight existing daily services which depart from the High Wycombe bus station at the Eden Shopping Centre.
The coach operator is continuing to lay on services to Oxford, Hemel Hempstead, Hatfield, Luton Airport and Stansted Airport.
There are eight coaches a day from the HXH to Coventry, via Birmingham – where people can connect to Manchester and Liverpool.
Further services travel to Wolverhampton, Warwick, Dudley and Heathrow Airport – taking in the Central Bus Station, Terminal 4, Terminal 5 – as well as Gatwick Airport; North and South Terminals six times a day.
Passengers are able to travel directly to London Victoria Coach Station five times a day, while there will be two coaches to Stratford Upon Avon.
There is also a long-haul service to Aberdeen via Dundee, Glasgow, Hamilton, Carlisle and Leamington Spa.