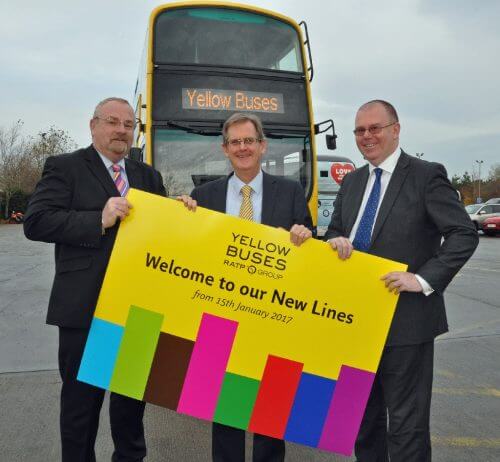 The RATP Dev UK subsidiary is to undergo the biggest transformation of its network in a decade
Yellow Buses, the Bournemouth-based bus company which carries just under 15 million passengers a year, is to introduce eight colour-coded lines at the beginning of next year: Bourne, Priory, Uni, Royal, Village, Coast, Dolphin and Heath.
Routes operating on each line will be denoted by the first letter of the name, e.g. 'R' for Royal, followed by the service number.
All of the current 22 service numbers will change with the exception of four routes which are subsidised by Bournemouth Borough Council and the Borough of Poole.
The new network will focus on key hubs, including the Royal Bournemouth Hospital and Bournemouth University, while offering new off-peak connections to destinations such as Mudeford, Verwood and Ringwood.
Yellow Buses says the new network, which takes effect from January 15, 2017, reflects the changing life and work patterns of its customers as well as simplifying the network and addressing congestion.
Extra early morning and late night services are being introduced on some routes to help shift workers at locations such as Bournemouth town centre, Poole town centre and the Royal Bournemouth Hospital.
Journey times are also being revised on several routes in order to improve punctuality and reliability, while bus frequencies and timings are being simplified to help customers.
Andrew Smith, Managing Director, commented: "Yellow Buses has proudly served Bournemouth and the surrounding area for 114 years, connecting local people and local communities.
"Our new network highlights that unique bond with the introduction of an even more customer-orientated service using route names and clear colour coding.
"It's a network designed for the needs of our customers in 2017 and we believe it will prove very popular."