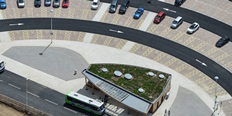 £22.7m project means York now has largest Park & Ride network in the UK
City of York Council, and contractors Balfour Beatty, have announced the outer ring road works on the A59, which formed part of the new Poppleton Bar Park & Ride site, are officially complete.
The £22.7m pound project – 70% funded by the government – was created in partnership with Balfour Beatty and designers CH2M Hill. As part of the project, a new Park & Ride was created at Poppleton, and a larger facility created near to the previous Askham Bar Park & Ride site.
It is hoped that Congestion levels along the routes into the city centre will be cut by the increased parking capacity at Askham Bar and the introduction of a new 600-vehicle facility at Poppleton Bar.
The Park & Ride service now operates from six sites around the city, provided in partnership with First, making it one of the largest Park & Ride services in the UK, which helps to reduce congestion and pollution in the city centre. The Poppleton service uses a fleet of electric buses, which helps to lower air emissions and congestion and offers low-carbon travel options.
Will Pearson, First York Business Manager, said: "This is great news for customers using the new Park & Ride site at Poppleton. Reliability is crucial to our customers and I'm sure that with the great service, frequent journeys and new, electric, luxury buses, we can encourage even more people to use Park & Ride."
Cllr David Levene, Cabinet Member for Transport, said: "The £22.7m project represents one of the largest single investments in York's transport infrastructure since the northern ring road was built in the 80s. This has been our stated priority for the last three years and builds on our existing portfolio of Park & Rides sites. This is critical for York's future economic prosperity and environmental wellbeing and we are delighted to be delivering this major improvement."
Eddie Tribe, North East Delivery Unit Managing Director, Balfour Beatty said: "It is a great pleasure to hand over these fantastic new Park & Ride sites to City of York Council. Working closely with our customer, these challenging projects were successfully completed in heavily trafficked areas, with Askham Bar having the additional challenge of being constructed on a reclaimed landfill site. These new Park & Ride sites will ease congestion and provide people with improved journeys into York city centre."