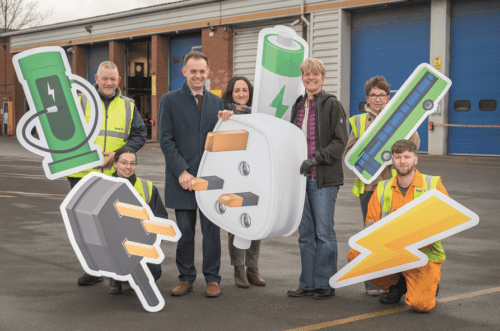 First Bus to reach a total of over 600 zero emission buses across the UK by March 2024
First Bus expects to be operating two fully electric fleets by March 2024, with York and Norwich set to become the UK's first bus depots outside of London to achieve the goal. Along with its local authority partners, First has been successful in securing Department for Transport (DfT) approval to boost its existing Zero Emission Bus Regional Area (ZEBRA) projects in four locations.
This means the company will co-fund an additional 117 electric buses across its York and Bramley depots in West Yorkshire, one of its Norwich depots, and its Hoeford depot in Hampshire, with 58% of the funding provided by First Bus and the remaining 42% coming from the ZEBRA scheme. Alongside the first two all-electric depots in Norwich and York, the latest award for the Hoeford depot will now mean that all commercial routes operating out of the depot will be fully electric and bring its total electric bus fleet up to 62.
First will also continue to work with Leicester City Council on the ZEBRA project at its depot in the city, where it is deploying 68 vehicles. By the conclusion of the ZEBRA projects, First will have over 600 zero-emission buses in its fleet, with additional investment by the operator totalling £35 million.
Roads Minister Richard Holden said: "Buses are the most popular form of public transport, and these new British-built zero emission buses will support hundreds of high-quality manufacturing jobs in Northern Ireland, grow our economy and help clean up the air in towns and cities across the country.
"We're providing an additional £25.3 million to roll out 117 new buses to provide residents in Yorkshire, Norfolk, and Portsmouth with better, cleaner and quieter journeys, as we step up a gear to reach net zero faster and level up transport across the country."
Welcoming the extra funding, Janette Bell, Managing Director of First Bus, said: "This is a significant milestone on our decarbonisation journey. We are delighted to be accelerating investment in the electrification of our bus fleet and infrastructure, supported by co-funding from the Department for Transport. As leaders in sustainable mobility, we are fully aligned with the Government's ambitions for a net-zero carbon transport system.
"We are rapidly transforming our business with zero-emission bus fleets and will continue to work closely with central and local government across the UK to deliver our decarbonisation plans. We are excited to take our people on this journey with us and look forward to these projects coming to fruition and the first vehicles going into service for our customers."
First's total investment so far has seen it invest £82m in electric buses and infrastructure, alongside ZEBRA funding of £63m, including its largest order of electric buses to date for 193 vehicles from Wrightbus.