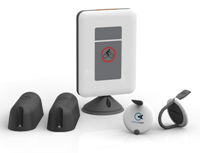 Working in conjunction with City of York Council and Transdev Unibus, the University of York is to become the first to introduce the revolutionary Cycle Alert System on its network of Unibuses and with York University students.
The system, which alerts drivers when a cyclist is close to their vehicle, goes live on York University's bus fleet on September 28. Students can buy a transmitter from the student union shop for £5.
The system has three elements: a unit which is fitted to the bicycle (or worn by a cyclist on their person or helmet), sensors which are fitted to the HGV or other vehicle, and a cab-mounted device to alert the driver. The three units work in sync to form a communication network between all parties, alerting the driver – with maximum advance notice – of a cyclist in proximity.
The in-cab receiver is designed to create minimal distraction for the driver, with a simple and audible 'cyclist' warning and a flashing light which indicates where the cyclist or cyclists are positioned near or around the vehicle. This allows the driver to react instantly and actively avoid any potential collisions.
Cycle Alert's co-founder and the system's innovator, Peter Le Masurier, explained: "There are currently no systems on the market which can tell an HGV or PCV driver whether a cyclist is close to their vehicle. This is where Cycle Alert comes in."
The system has already received approval from Eddie Stobart and the Met Police has demonstrated Cycle Alert in all its recent 'exchanging places events' as part of its cyclist road safety programme.
For details on Cycle Alert visit www.cyclealert.com