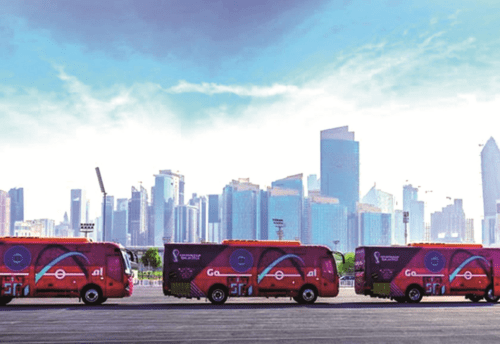 QATAH
Yutong has signed a Memorandum of Understanding (MoU) with Quatari transport company Mowasalat (Karwa) for joint research and development of electric vehicles (EV) for logistics following the successful introduction of a fleet of Yutong electric buses for shuttle services related to the 2022 World Cup.
The two companies will now cooperate on jointly promoting the application and development of electric commercial vehicles in Qatar, on research and development of electrification projects, and on research on safe driving and operation efficiency of electric vehicles. Fahad Saad Al Qahtani, CEO of Mowasalat, commented on the MoU, saying, "We are the key player for transportation in Qatar and as such, we are aware of our ecological responsibility for the country. This cooperation will help us achieve our goal of promoting the use of clean energy and reducing carbon emissions. We look forward to working closely with Yutong on the joint research and development of EVs for logistics, as well as other initiatives related to new energy."
"At Yutong, we are committed to creating a sustainable future for all, and we will further advance the development of electric commercial vehicles in Qatar. This collaboration represents a significant milestone for Yutong, and we look forward to working together to contribute to a greener and cleaner environment for Qatar," added Shen Hui, CEO of Yutong Middle East.