The idyllic and green surroundings of Provence have seen the arrival of a new green way to travel, in what BYD says is Europe's first pure electrically-operated inter-city bus route as 10 Yutong ICe12 electric buses enter service. Purchased by the Transdev Group and delivered at the end of July, the buses entered service on 19 September in Aix after two months of trial operation. The buses have a range of up to 350km on one charge.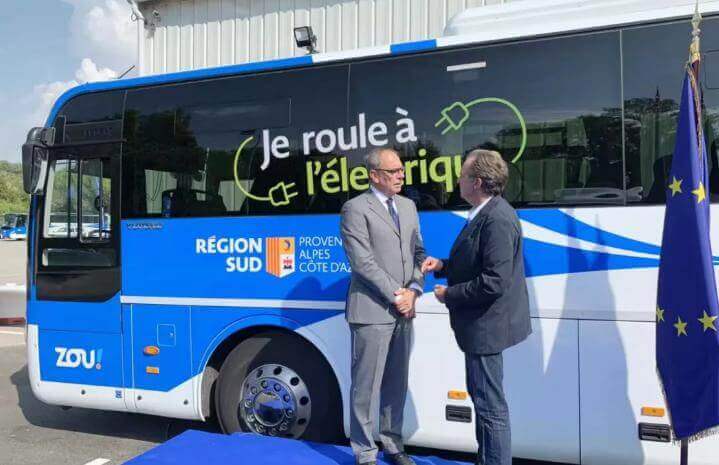 Renaud Muselier, President of Provence-Alps-Cote d'Azur Region of France, Thierry Mallet, Chairman and Chief Executive Officer of Transdev Group, and other dignitaries attended the launch ceremony to witness Europe's landmark achievement in green travel.
Provence, located in the southeast of France, has been a popular tourist destination since ancient times because of the abundant natural resources and beautiful scenery. As Renaud Muselier said:
"It has 1,000 kilometres of coastline, 50% coverage ratio of forest, 300 days of sunshine a year… This special 'natural heritage' needs protecting with our joint efforts."
Aix in Provence therefore voted to implement the 'Paris Agreement' ahead of schedule, and it was used to guide the region's environmental strategy to develop a number of objectives and measures. Among them, electric travel was a priority.
Renaud continued: "We are the first region in Europe to decide to provide customers with pure electric inter-city buses. The use of these pure electric buses is part of the regional strategy to improve the air quality and is the core contents of implementing the 'Paris Agreement' ahead of schedule."
Yutong entered the French market in 2011 and has sold over 600 vehicles, accounting for more than 60% of China's bus export share.
Read more news at: cbwmagazine.com/category/news