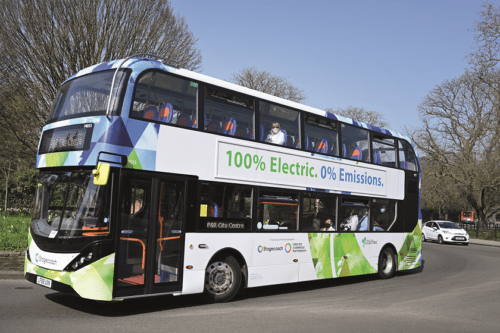 The delivery of the first batch of 30 Volvo BZL/MCV electric double deck buses for service in Cambridge is imminent, reports Steven Knight. The first vehicles are expected to be delivered to Stagecoach East by the end of March with the remaining vehicles expected to follow in April.
The £16.574 million project has been funded through a Government grant of £4.295 million with £2.994 from the Cambridgeshire and Peterborough Combined Authority, £2.25 million from the Greater Cambridge Partnership and the remaining £7.035 million coming from Stagecoach.
Entry into service of the new buses is now expected in late April, some six months later than initially planned. They will be used on Cambridge's park & ride routes and the city's route 2 from Addenbrookes to Cambridge North and Milton. Charging facilities have been installed at Stagecoach's Cowley Road depot in Cambridge and are being installed at the Babraham Road park & ride site.
A Cambridgeshire and Peterborough Combined Authority report in January 2023 stated: "There has been some delay as these are the first Volvo BZLs to be built and Volvo found a potential safety issue which required to be eliminated. This has been completed."
The introduction of these buses is part of a commitment from the Combined Authority to a rolling bus replacement programme, replacing 30 vehicles per year across its area. The ambition is to convert the entire bus fleet from diesel buses to zero-emission vehicles within the Combined Authority region by 2030 to hit carbon emission targets and help tackle climate change.