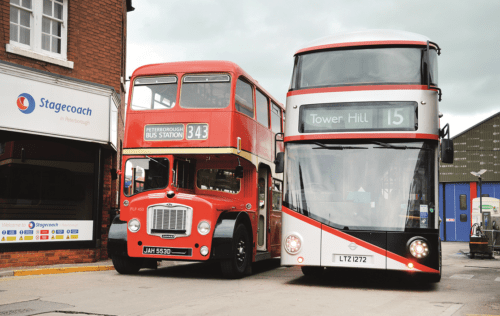 The Cambridgeshire & Peterborough Combined Authority has confirmed that it is continuing to consider several sites for the relocation of Peterborough's main bus depot. The current depot is over 100 years old and in a residential area of the city with no potential for increasing either capacity for vehicles or installing electric charging facilities.
The depot is currently owned by Stagecoach East and has an allocation of 58 vehicles. The Combined Authority has said that any replacement depot will need to be multi-operator and have the capacity to expand at a later date to meet future market needs. Councillor Marco Cereste, the Cabinet member responsible for transport at Peterborough City Council, confirmed that the Combined Authority had secured a grant of £4 million from Government to develop a new bus depot facility and that the City Council and the Authority are working to deliver the project. What is not yet clear is how the depot will be owned and operated. Councillor Cereste said: "We are not in a position to confirm how the depot might operate, from a lease or ownership perspective, but this will be fully considered and determined as part of the project."
Stagecoach had previously suggested that a replacement depot could incorporate a park & ride site; The plan would see the bus parking area to utilised during the daytime as a car parking area. That proposal was however not progressed.