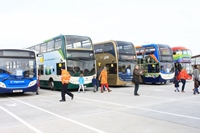 Stagecoach West has held a successful open day at its new Darby Close bus depot, the Swindon Advertiser has reported.
After the depot formally opened on Friday, February 26, a public open day was held on Sunday, February 28.
During the day visitors found out more about Stagecoach and its fleet of 65 buses of eight different models. A convoy of vehicles including a rainbow coloured Pride bus, a hybrid and a Stagecoach Gold-branded luxury vehicle were lined up for customers to explore.
Visitors queued up to have their names displayed in neon lights on the front of the bus. There was also a race course and hazard perception test set up to educate visitors on road safety, along with a bus wash drive through.
Orlaith Palmer, Marketing Manager for Stagecoach West, said the event was about connecting with town residents.
She said: "Stagecoach is all about the community and that's why we were so keen to have as many members of the community here for our open day.
"Everyone enjoyed themselves and the day represented a modal shift in the ways that people view buses
"People were sharing memories about their time using buses and we've had a number of bus experts here today. Now people will hopefully leave the car at home and use a bus when they can."
The £3.2m purpose built facility took just under a year to construct and represents a step up from the existing premises in Eastcott Hill.
All proceeds from the event will be split between charities including SNDogs, The Swindon Stroke Association and Swindon Bunny Rescue.