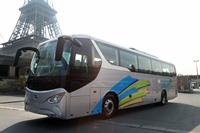 Vehicle stated to have a range of 200km and a charge time of 2.5 hours
BYD has displayed one of the world's first pure electric coaches in Paris.
The BYD coach, developed using the Chinese manufacturer's experience in the pure electric bus market, is currently under homologation testing prior to its introduction in Europe.
Paris was chosen for the preview appearance because of a drive by the city's mayor to reduce pollution from coaches.
With a range of 200km under typical operating conditions and a recharge time of 2.5 hours, BYD has said the coach could complete many coaching applications in and around cities, such as shuttle services, city sightseeing and hotel and airport feeder services.
Amongst standard features of the BYD electric coach are a 180kw (241bhp) motor; a braking system incorporating electronic stability control, advanced emergency braking system, Adaptive cruise control (ACC) and a regenerative braking energy recovery system; a lane departure warning system; a tyre pressure monitoring system for all wheels; keyless start; automatic fire extinguishers in the front and rear cabins; AC quick charge facility; and a wheelchair area and wheelchair lift.
BYD's Founder and Chairman Wang Chuanfu said: "Just a few months ago my colleagues and I were here to participate in the COP21 UN climate change negotiations and we were impressed by the determination of the authorities not only in Paris but across France to do more to improve the quality of the air their citizens breathe.
"We heard an impassioned plea by the Mayor of Paris, Anne Hidalgo, to assist in greening one of the world's most beautiful cities.
"Not only does she, as representative of the municipality, together with STIF, plan to ensure that all of the 4,500 city buses are zero or low emission by 2025 but they specifically referred to diesel-engined coaches as being a major source of pollution.
"This was a prophetic pronouncement – other cities have yet to target this particular class of vehicle, but of course they will in the future."
Isbrand Ho, Managing Director of BYD Europe, added: "We'll shortly be announcing our introduction plans for our coach in Europe, with France as our first market.
"Many of the technologies we have developed about our city bus range are applicable to this new model. We are confident we have a vehicle which exactly suits the city's needs."