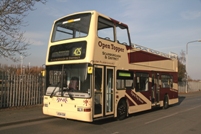 EYMS Group has become the latest operator to acquire a number of ex London double deck buses as part of its fleet replacement programme.
From Volvo Bus the firm has bought 27 Plaxton Presidentbodied Volvo B7s, which were new in 2002/3. Of these, 20 are being refurbished by Coach Parts Direct of Leyland, Lancashire and 22 are being converted to single door, retrimmed and modified to full DDA specification.
The other five have been refurbished and converted in the EYMS workshops to open-top format for use on Scarborough seafront services later this year, the company having sold to Estonia its existing five open-top double decks based on 1989 Volvo B10M chassis. However, these five buses will retain their centre door, as lower deck capacity is not important and EYMS believes the move will speed up boarding and alighting, which often takes place simultaneously at each end of the seafront route.
EYMS chairman, Peter Shipp, said: "Fortunately due to very heavy investment in new buses since privatisation in 1987 we are well on the way to achieving the final DDA deadline at the end of 2016 and these 27 buses will take us another big step towards this target.
"Like many operators, we are naturally wary of the costs and maintenance issues associated with Euro 6 and this big intake of second-hand buses will give us breathing space.
"Once all these refurbished buses are in service by May, we will have only 34 buses left in the Group which are not wheelchair accessible and I suspect that as the BSOG cut and the next fuel tax rise kick in, further service cuts will regrettably take care of some of these. Many of the earlier lowfloor models will require upgrading to full DDA compliance and we will spread these modifications between now and December 2016.
"Four of the refurbished buses will go to Finglands where they will replace 1996 Volvo double deckers. The others will go to East Yorkshire's fleet and replace Volvo double deckers dating mainly from 1994 to 1996."