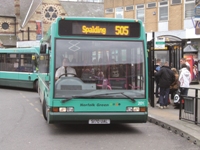 £11m limit enforced on concessionary fares as council funding gap expected to rise to £4m
Norfolk County Council (NCC) and local bus operators have agreed to cap the annual reimbursement for concessionary bus fares to just under £11m for the next two years.
Council officers said a fixed pot provides some stability when calculating how much is required to fund concessionary bus fares.
Last year, NCC took over responsibility for reimbursing bus operators for free travel by concessionary bus pass holders, but has been fighting ever since for more money to cover the cost.
The council last year had £7.2m to reimburse operators, but the cost of paying them was just over £10m, meaning the council had to provide an extra £3m to plug the gap for 2011/12. This figure is expected to rise to £4m for 2012/13.
The council has, through its Fair Fares campaign, tried to convince the government to provide extra cash to cover the shortfall.
A petition signed by 23,500 people was handed to transport minister Norman Baker last month. While he ruled out a lump sum to help NCC, he agreed to investigate the way funding is calculated.
Graham Plant, NCC cabinet member for planning and transportation, said officers and bus operators deserved credit for the common sense approach: "The officers, particularly Tracy Jessop, the council's assistant director of travel and transport services, have done a superb job.
"They've come up with an agreement which means we can look at the budgets with a bit more certainty. With no cap we would have to keep dipping into money from elsewhere."
Steve Challis, MD of Go-Ahead Group-owned konectbus, told CBW: "There are arguments for and against in any situation but here I think we have the best outcome we could hope for. Operators can always do with more money but this is a bad situation for Norfolk too. The real benefit for us is we now know where we are."
Ben Calson, MD of Norfolk Green, was more critical. He said: "The proposed new cap is an improvement but is still short of the reimbursement level in 2010. Meanwhile running costs and fuel prices have increased, while BSOG has been cut.
"The real problem is the withdrawal of the special allowance for tourist areas. We're having the same problem as Cornwall, where a large amount of our concessionary passengers are visitors, and the DfT are not willing to properly fund tourist areas. The blame lies solely on the doorstep of the DfT."
To cut down on some of the costs for concessionary bus fares, NCC dropped an extra discretionary hour, which had been offered when the district councils were responsible for concessionary fares.
It means passes are now valid from 0930 to 2330hrs. However, an exception has been made for blind people and companions of disabled people, after an extra £51,000 was found to retain the extra hour for them.