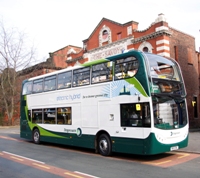 Stagecoach Manchester is introducing 40 brand new ADL Enviro 400Hs to its 192 service in a £11.3m investment.
The route serves Hazel Grove, Stockport, Levenshulme and Longsight and carries an average of 187,000 passengers per week.
The first 12 buses arrived on Friday (February 1), with a further 16 arriving on March 1 and the remaining 12 will arrive between March 2 and March 15.
The new fleet has been purchased with the assistance of the DfT's Green Bus Fund, which provided approximately £3.5m funding to supplement Stagecoach Manchester's £7.8m spend.
The launch of the new hybrid fleet will mark the largest ever single investment into buses on a single route in Greater Manchester.
Christopher Bowles, MD of Stagecoach Manchester, said: "The commissioning of 40 new hybrid buses for the 192 route is yet another significant investment in our region-wide operations.
"This route is one of the most intensive services outside London and we hope our initiative will be welcomed by all local residents.
"We will be developing and expanding our fleet and services further in 2013 to ensure that local residents can continue to enjoy excellent service, increased convenience and a greener, more environmentally friendly way of travelling."