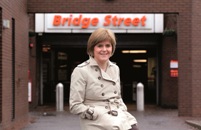 Fastlink buses to feature smartcard technology with a view to Glasgow Subway integration
The Scottish Government has approved a £40m provision of funding for a new high-frequency bus link along the north and south banks of the Clyde in Glasgow.
The Fastlink project, led by Strathclyde Partnership for Transport (SPT) and Glasgow City Council, aims to link the city centre with the Commonwealth Games area at the Scottish Exhibition and Conference Centre (SECC) and the new Southern General Hospital.
Fastlink-branded buses will feature smartcard technology with the intention of connecting with similar technology on the Glasgow Subway to bring seamless multimodal travel for passengers.
Other improvements will see real-time information screens installed at bus stops and number plate recognition CCTV brought in to deter drivers of other vehicles taking advantage of bus lanes.
Confirming the funding, Nicola Sturgeon, deputy first minister, said: "Fastlink will make a real difference to the quality of public transport links in the area as well as providing real economic development opportunities for the many communities along the route.
"It will also provide better access to the new South Glasgow Hospital, and offer another transport option for the Commonwealth Games.
"Having received the final business case from SPT and subject to continued reassurance on SPT's work as it develops during the detailed planning and design of the project, our contribution gives the green light to this project."
Welcoming the announcement, SPT chief executive, Gordon Maclellan, said: "We're delighted. SPT's enhanced Fastlink business case, which was submitted to the government earlier this year, showed the new network would boost the public transport usage, cut congestion and improve bus journey times by up to 20%.
"We know we can make a real difference with simple measures, such as dedicated controlled bus corridors which will vastly improve access to the city centre. Direct links from existing bus and rail hubs to the new hospital and the SECC – a key Commonwealth Games site – will make public transport an attractive alternative to the car.
"This new 'Fastlink Standard' can also be mirrored across Strathclyde with other quality bus corridors running to neighbouring councils in Renfrewshire, Lanarkshire and West Dunbartonshire."
Planning permission was granted in 2006 and a high level feasibility study was completed for Fastlink Phases 1 and 2. Phase 1 would be Glasgow Central to the SECC, with Phase 2 extending beyond this to Glasgow Harbour.
SPT has provided grant aid to Glasgow City Council to carry out further detailed feasibility work.
Work has been focusing on two potential route options:
To Renfrew, via the Southern General Hospital on the south side of the Clyde;
To Clydebank, via Glasgow Harbour on the north.
A third option to examine the potential for a route to the east end serving the Commonwealth Games/Clyde Gateway urban regeneration area is now being given some consideration.