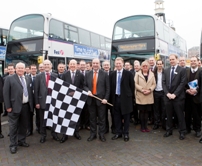 Transport minister Norman Baker marked the completion of an upgrade to the bus network in Bristol on Thursday (March 15).
The four-year £78.8m Greater Bristol Bus Network (GBBN) project involved the upgrade of 40 routes across 70 bus services in the region. This included investing in more than 120 new buses, upgrading almost 1,000 bus shelters and the creation of 8.6km of bus priority lanes.
The DfT provided £42.4m of the funding with £22.5m coming from FirstGroup and £13.9m from four local councils.
Norman Baker said: "I want to see more people travelling by bus. To achieve this, we need to ensure services are up to scratch and passengers benefit from reliable, accessible, sustainable travel which offers more direct routes. That's why the department has spent millions of pounds, working closely with operators and local councils in delivering these projects."
Robert Sinclair from the West of England Local Enterprise Partnership said: "We are very pleased to welcome the minister here to see the improvements that Greater Bristol Bus Network funding has brought about. An efficient, reliable public transport infrastructure is a key priority for local businesses helping to create a more competitive local economy and better connected communities."