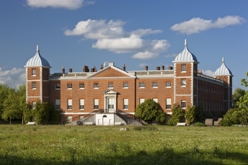 Plenty to see and do at this 18th century mansion and grounds
Osterley Park and House lies in the London Borough of Hounslow in the western suburbs of the capital. The spectacular mansion and surrounding garden, park and farmland is one of the last surviving country estates in London.
Transformed in the late 18th century for the wealthy Child family by the architect Robert Adam, the house and garden were designed for entertaining the banking family's friends and clients.
Group admission is £8.20 per person. No groups can be admitted on Bank Holiday Mondays.
Parking is available for two coaches, 400 yards from the house entrance and there is a drop-off point at the house. Pre-booking is required.
There are a number of special interest tours available for groups, including private house viewings, behind the scenes tours and a garden tour. These all cost extra with minimum charges per group.
There is also the chance to spend a morning with the house staff learning about the conservation and cleaning techniques used to care for the house textiles, furniture, metalwork and ceramics.
There is a varied events programme, including walks, tours and themed weeks.
Other essential attractions include the atmospheric film in the Tudor stables which brings Osterley to life, the newly created Winter Garden and the 'below stairs' area where domestic life can be explored.
The park is open all year round while the house is open between March and November, plus two weeks in December. The garden is open between February and November.
On-board coach welcomes and introductory talks are available. The average visit length is three hours. For a full day in the area the trip can be combined with a visit to Chiswick House, Ham House and Garden or Kew Gardens.
For more information email groups.osterley@ nationaltrust.org.uk or ring 0208 2325050