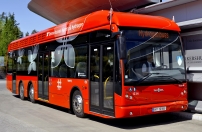 NORWAY Five Van Hool fuel cell buses for Oslo were presented to representatives from the Oslo Akershus region in May, marking the conclusion of a project started 17 years ago. They are now in daily use in the Norwegian capital. The order was part of the European hydrogen bus demonstration project.
Van Hool, which is increasingly recognised for its integration of advanced environmental technologies in public transport, won the order through an international tender by Ruter A/S in Oslo. Van Hool's considerable experience in supplying fuel cell buses for the United States, the number of comfortable forwardfacing seats and the total passenger capacity were said to the key factors in securing the order.
The buses are 13m long with three axles. Three doors provide access to a lowered floor extending as far as the central door. They have 37 seats, 34 of which are forward-facing.
Fuel cell buses have zero emissions (complete absence of harmful emissions and CO2), and a substantially reduced noise level. The fuel cell stacks were manufactured by Canada's Ballard Power Systems and combine with lithium batteries and Siemens electric motors to create a hybrid electric drive system. The hydrogen in the fuel cells is converted into electricity, with water vapour as the only emission, and batteries provide additional power where and when necessary. Recovery and reuse of braking energy means hydrogen consumption is restricted to approximately 30 kg/bus/day.
All five obtained European type approval, tilt testing at 28° and extensive safety inspections.
They are used on a 20km route, the 81A from Vestbanen (west of Oslo) to Greverud.
The hydrogen filling station in Rosenholm was built by Air Liquide. It produces over 200kg of hydrogen per day via water electrolysis using equipment supplied by Hydrogenics of Westerlo, Belgium. The 'green' electricity for electrolysis comes from a nearby hydroelectric power station and is renewable.