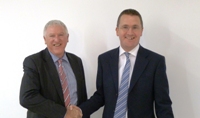 ADL buys Australia's Custom Coaches bus manufacturing business, one of the biggest and longest-established bus bodying businesses on in the country, with a 24% share of the market.
Alexander Dennis Limited (ADL), which recently signed a major joint venture deal with New Flyer in North America, has stepped up its globalization programme with the acquisition of Sydney-based Custom Coaches, one of Australia's major bus manufacturers.
The multi-million deal sees ADL take 100% control of the Australian business, which employs over 400 people at manufacturing sites in Sydney, New South Wales and in Adelaide, South Australia. It currently has annual sales of around £55million (A$90m) and a 24% share of the Australian bus market. ADL Chief Executive Colin Robertson said: "This is another significant step in our strategy to diversify and grow the business. It will see our group turnover increase to around £500 million per annum – a three-fold multiple in just five years – and position us well to become a major player in the southern hemisphere.
"The Custom brand is an icon in the Australian bus body market having been part of the transport landscape for 50 years. It has history, heritage and a reputation for quality products and putting customers first. Our strategy will be to invest in people, processes and products; to exploit the synergies between our companies, particularly in terms of product and technology transfer, and to further strengthen the reputation we have elsewhere in the world for best-inclass customer support.
"This is the beginning of an exciting new chapter for both Custom and ADL. It will build on the progress ADL has made in New Zealand in the last two years where our manufacturing partnership with Kiwi Bus has established us as market leader and a major supplier to cities such as Auckland and Wellington."
Mark Burgess, Managing Director of Custom, said: "We know the market intimately, while ADL is a recognised world leader in lightweight, fuel efficient vehicles, particularly midibuses and double decks. It is also admired globally for its focus on customer support. Bringing these strengths together presents the opportunity to create a powerful new force in the Australian bus manufacturing sector."
Custom produced its first vehicle in 1955. It designs and manufactures lightweight, stainless steel bodies for lowfloor city, school and midibuses, all of which are designed for a 25- year life-cycle. Custom's focus on product innovation, coupled with meticulous research and development has kept it at the forefront of the Australian market for over 50 years, producing a raft of sophisticated specialist vehicles in recent years such as articulated, CNG powered and hybrid-electric buses, along with a unique range of lowfloor buses incorporating under-floor luggage space.
It has manufacturing facilities in Sydney and Adelaide and a series of aftermarket operations located strategically across the country