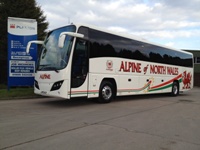 Llandudno-based Alpine Travel has taken delivery of a new 13m Plaxton B9R Panther 2.
The new arrival helps commemorate the 40th anniversary of the business, as managing director Chris Owens' father started trading as Alpine on March 1, 1972.
The delivery is part of the operator's fleet renewal and improvement and will be used for both British and European tour work.
Speaking to CBW, Chris said: "The coach has joined our expanding fleet of Plaxtons. These coaches have a long and useful life, starting out as tour vehicles and then moving to different work as they get older.
"We believe it is important to keep investing, despite the tough economic climate. If you do not invest for three or four years, you'll find too many vehicles are not up to the current standards.
"The new B9R joins our 75-vehicle fleet and is part of 17 touring coaches."
Commenting on the new delivery, Chris concluded: "Let's hope it's a good omen as the industry hasn't had the best start to 2012."