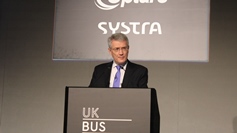 Transport minister says that while the bus industry has made great strides in accommodating physical disability, it could do more to assist passengers with mental ill health
Transport Minister Andrew Jones has said that the transport industry must do more for mental health at the Mental Health and Transport Summit in Cavendish Square, London on February 25.
In his speech, he stated that the relationship between mental health and transport goes deeper than many people realise.
He said: "One in four of us will experience a mental health issue this year. It might be phobias, anxiety, OCD, depression, panic disorders, dementia or one or more of many other conditions.
"Transport offers freedom to visit family, go to the shops, travel to volunteer or to museums, and it offers the hope that can be found in the chance to study or to work – all the things that make for a normal life.
"When it comes to serving those with poor mental health, transport has some catching up to do.
"To see how much, look at the progress the transport industry has made in meeting the needs of those with physical ill health.
"Take the bus industry – today, nearly 90% of buses are equipped to serve physically disabled people, with wheelchair space, priority seats, handrails, and devices to help people get on and off.
"But on mental health, there's sadly been nothing like that kind of progress.
Even someone with the best mental health will sometimes find public transport stressful and bewildering."
On mental health and the bus industry, Andrew drew on the experience of one passenger, who had said: "You might afford the bus, but the bus company's website doesn't give fares. To find out the fares you have to speak to the bus driver or phone the company. Just thinking about either brings on a panic attack. The dread of getting on the bus with insufficient fare is overwhelming."
Andrew continued: "We need to recognise that transport's problem with mental ill health is a symptom of a wider problem.
"Across much of our society and our economy, mental health has not received the same level of attention as physical health.
"It might be because mental health is less visible. It might be because people don't understand mental ill health and how common it really is.
"Or it might be because of the stigma that still lingers around mental health, a stigma that for physical health we long ago dispelled."
Andrew said that while there were some early signs of progress, more was needed.
"First Bus has introduced a Better Journeys card which is designed to give people a discrete way of alerting the bus driver to any special assistance they may need," he highlighted.
"The card contains messages such as please help me find a seat, please count out my change with me and please be patient – I have a hidden disability.
"These cards remind us that, so often, it's skilled and helpful transport staff who make the biggest difference to passengers.
"This is a great example of the difference that transport operators can make when they think about those with mental health needs.
"As part of our Buses Bill, all bus operators will be required to make data about routes, fares and times open and accessible.
"It will allow app makers to develop products that passengers can use to plan their journeys, and give people the confidence to take the bus.
"But we need the industry to keep taking action of its own accord, too.
"The government doesn't want to impose a one-size-fits-all solution on the transport industry.
"It's about getting to know your customers and taking action in the most effective way for your sector."