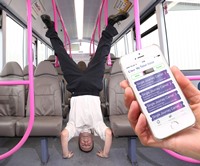 First Bus has revealed a 28% increase year on year in sales of its Carnet multi-journey products, which typically enable customers to purchase 10 journeys at a discounted rate.
More than 216,000 journeys were made using multi-journey tickets across First Bus in January 2016, rising from 168,000 in January 2015.
The company has linked the increase in demand to its increasing availability as an m-Ticket and changing work patterns, after the Office of National Statistics in February confirmed 8.43m people in the UK are working in part time roles, an increase of 134,000 year on year.
Commercial Development Director at First Bus, Simon Pearson, said: "For someone who uses the bus two or three days a week, such as a part time worker, our simple 10 journey proposition offers the best value and greatest flexibility.
"Coupled with the increasing availability of our multi-journey products as m-Tickets, enabling customers to use their mobile phones as bus tickets, this explains why we're seeing a spike in sales across our businesses.
"The bus is absolutely vital to the UK's economy. Every day almost 2.5m people across the UK travel to work by bus, and a million more use the bus as a vital back up.
"The growing demand for multi journey tickets is strong evidence that more people are working part-time, or working shifts often out with traditional commuting peak time periods."