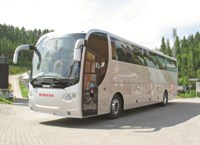 Bowen Travel Group has gone into administration following serious cash flow problems.
The firm employed 448 people across the UK, of which 393 were made redundant immediately. 55 have stayed on as a skeleton crew to assist appointed joint administrators Matthew Cowlishaw and Dominic Wong, partners at business advisory firm Deloitte.
The group comprised six firms; Bowen Travel Limited; LF Bowen Limited (trading under Bowens, Applebys, and Yorks); Jeffs Coaches Ltd; York (Bros) Northampton Ltd; Bowen Travel Transport Ltd and Woottens Luxury Travel Ltd. Collectively the group ran three divisions of coach tour operations and coach hire with a fleet of 132 coaches and 33 MPVs, and a retail travel agency network of 38 stores.
Matt Cowlishaw said Bowen had been affected by the "depressed leisure sector".
He added: "We're working closely with Bonded Coach Holidays to assist impacted customers, ensuring they are all fully aware of the situation and next steps."
Bowens Travel was rebranded BTG Travel after it ended its franchise agreement with First Choice and joined Hays Travel Independence Group which has been offering employment to some of the displaced staff. Other firms reportedly offering Bowen Travel Group staff potential roles include Blue Sea Holidays, Holidaysplease and new Sunset Faraway homeworking subsidiary Travel-PA.
Hays Travel Managing Director John Hays reportedly told Travel Weekly: "We are starting to print letters to send to clients to reasure them that their money is safe and to suppliers to say we will administer their bookings for them.
"We will offer the staff the opportunity to become homeworkers with Hays, as we have in other situations."