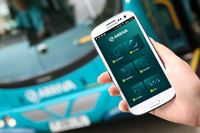 Arriva UK Bus is celebrating after more than 300,000downloads of its mobile app.
The mobile travel companion, which received its full nationwide launch earlier this year after a successful trial in the North East in early 2014, is designed to put the most up-to-date travel information at the fingertips of passengers , giving them access to real-time maps and service updates.
The success the app has had has not only been reflected in the volume of downloads, of which 62% remain active users, but also by mobile industry insiders, having been shortlisted in both the 2014 UK User Experience Awards, and at The Appster Awards, part of the annual AppsWorld Expo.
Mike Woodhouse, Senior Marketing Manager for digital and CRM from Arriva UK Bus, said: "This app has been a major leap forward in the UK bus industry by providing information to our bus users in real-time, so we are delighted that its benefits are being recognised by not only our customers, but also our peers in the digital and mobile sector.
"Mobile apps are ideal for users of public transport, who want to regain control of their journey planning whilst on the move.Our app enables customers to have the latest information about all our services at their fingertips – allowing them to plan their travel more efficiently and enjoy a smoother, more enjoyable experience. It sets the benchmark for where operators need to be in order to both improve the customer journey, but also the perception of the bus industry as a whole."