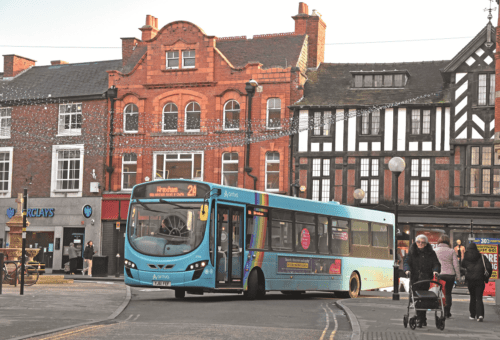 Arriva has announced that it is consulting with employees on closing three depots in Oswestry, Shropshire, and Macclesfield and Winsford in Cheshire. In Shropshire, Arriva says that customers' journeys would be largely unaffected with the main routes operated from the Oswestry site transferring to its Shrewsbury and Wrexham depots.
In a statement the operator said: 'The loss-making Oswestry depot has been hit hard by the change of travel behaviours following the pandemic with Arriva's bus users in Shropshire taking just 54% of journeys travelled prior to the pandemic. This post-pandemic recovery is far below national trends and comes alongside a challenging combination of significant industry-wide cost inflation and funding support from the local authority falling significantly below the levels provided by other councils to reimburse concessionary travel meaning bus services have been operating at a sustained loss."
In addition Arriva added: "While a Bus Service Improvement Plan was developed in partnership with Shropshire Council to bid for government support to help increase bus ridership, unfortunately the plan was unsuccessful in securing funding.
"Despite extensive interventions to attempt to boost passenger numbers, including extensive engagement with Shropshire Council to address the situation, regretfully it has not been possible to return the depot to a financially sustainable operation and affected employees have been notified of the consultation to close the Oswestry site."
If the proposal goes ahead, Arriva will cease to operate some local contracted bus services in the area. The company said it is in dialogue with the local authority, with the expectation that a new operator would take on these contracted services from May. Shropshire Council tendered services involved are routes 54 (Oswestry-Cefn Y Blodwel), 71 (Oswestry-Four Crosses), 79a (Oswestry-Porth-Y-Waen), 405 (Oswestry-Windsor Road) and 449 (Oswestry-Welshampton).
An Arriva spokesperson added: "We are saddened to announce that we are consulting with our valued employees about the closure of our Oswestry depot. While there would be very limited impact on customer journeys, closing depots is not a decision we take lightly and this only follows sustained and extensive interventions to attempt to turn around the losses in Shropshire.
"Our priority throughout this process is that everything runs as smoothly as possible, for both our customers and our high valued team. If the proposal goes ahead, Arriva will work with Shropshire Council and any new operators as school routes transition to new suppliers, with any changes to school services not expected until May."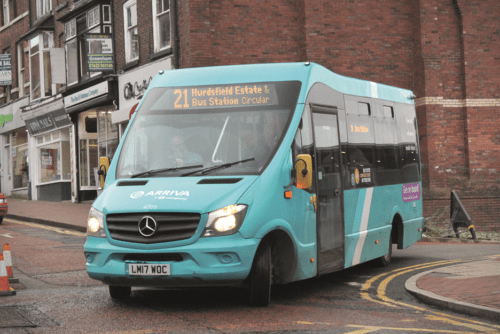 Cheshire depots
If confirmed, the move to close the two Cheshire depots would mean Arriva no longer operating any bus services in the Winsford, Northwich, Crewe and Macclesfield areas. Arriva told passengers: "Both depots have been loss-making since before the pandemic and the number of journeys taken by passengers in the areas served by the depots has not recovered to the same levels as comparable operations following the pandemic. This is alongside the bus sector facing sustained and significant cost inflation meaning that revenue from the operations doesn't cover the costs of running the operations.
"Arriva North West has undertaken extensive actions to try and turn around these challenges, including launching a largely new network in November 2021 but unfortunately these steps have not delivered the required improvement. Arriva North West has worked closely with Cheshire East and Cheshire West councils to explore all options to avoid closures but regretfully has not been able to find a way forward to return the depots to a financially sustainable position."
As with Shropshire, the county's Bus Service Improvement Plans were developed to bid for government funding, but both Cheshire West and Cheshire East were unsuccessful in securing support. Should the proposal go ahead, Arriva will no longer operate services 1 (Northwich circular), 3 (Macclesfield-Weston), 4 (Macclesfield-Upton Priory), 4 (Barnton-Leftwich), 5 (Macclesfield-Broken Cross), 6 (Leighton Hospital-Shavington), 7 (Winsford circular), 9 (Macclesfield-Moss Rose), 10 (Macclesfield-Bollington), 31/37 (Northwich-Crewe), 38 (Crewe-Macclesfield) and 84 (Crewe-Chester).
D & G Bus steps in
D&G Bus said that it will be stepping in to run additional services in Cheshire from 23 April. Commercial Director David Brookes said: "Local people will be worried about the future of bus travel in the area following this announcement. We'd like to reassure them that we intend to step in and cover as much of the Arriva network as we can. We've registered replacement services to cover the 31, 37 and 84, and we already provide a service on the 38.
"There are some services we haven't registered but we will be speaking to local council officers to see what else we can do to help. We can't guarantee we can cover all the Arriva routes but we'll make every effort to keep local buses moving in the area."
The company said that it is now recruiting qualified bus drivers and engineers and is planning to run recruitment events soon. David added: "We're proud to be helping to keep local services running, and we look forward to welcoming new colleagues and customers on board."